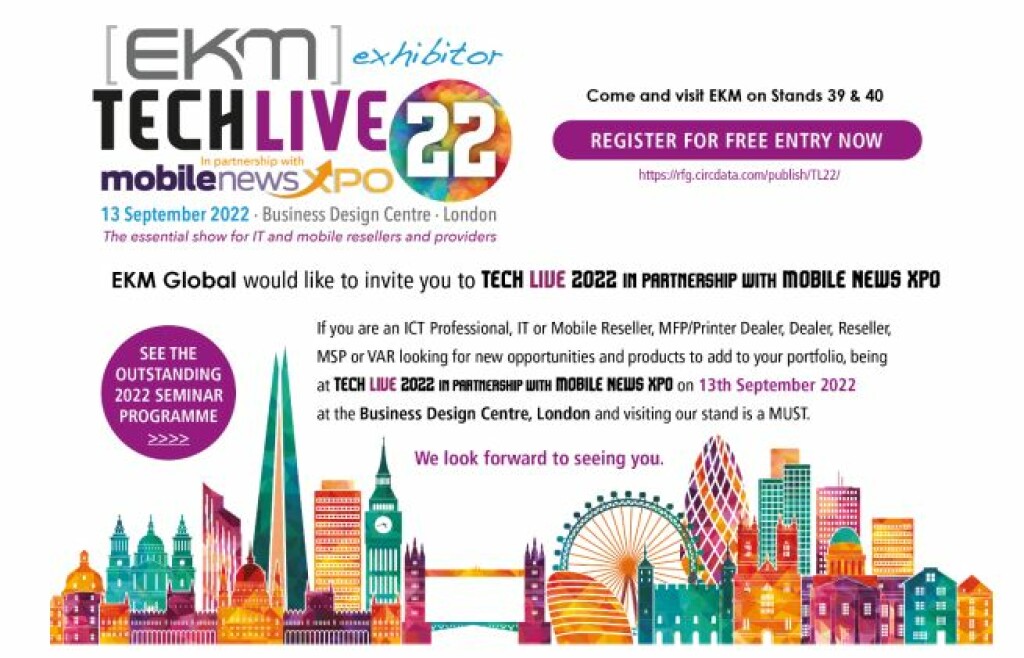 London, 31st August 2022 – EKM Global, the international leader in software solutions for simplified managed print, remote service automation, and anything-as-a-service (XaaS) subscription enablement, is exhibiting at Technology Live on 13th September 2022 at the Business Design Centre, London.
On stand 40, EKM Global will be demonstrating its latest software solutions for the channel including:
• Its flagship EKM Insight Fleet Service Manager for remotely managing distributed multi-client fleets of print and imaging equipment from corporate enterprises to SMEs. This multi-brand solution is available for channel partners to offer at the core of a managed service or sell directly to enterprise clients. BPO is also an available option.
• The EKM click2buy and click2subscribe products that enable channel partners to launch and grow revenue from as-a -Service offerings. The technology is easy to set up either as a complete webstore solution or by activating an existing ecommerce site.
• Additionally, EKM will be debuting its MPSGo Cube device. This miniature hardware client further simplifies deployment with a simple plug-and-go installation. This is especially optimal for Hybrid Office and Work from Home requirements, whilst enabling real-time insights into device usage for timelier consumable supplies and service fulfilment to maximise availability.
To enable the technology channel to easily manage printing and imaging as a natural extension to established IT Services, EKM will showcase how its remote service management technology can now also simplify and automate remote service and device fleet administration of thermal printers. Operationally critical label printers are typically deployed across logistics, industrial, and medical settings and so need to be proactively managed and supported more intelligently and cost effectively.
About EKM Global
EKM Global is an international leader in software solutions for simplifying managed print, remote service automation, and anything-as-a-service (XaaS) subscription enablement. The company works with the channel and corporate end user enterprises to make it easier for organisations to manage and maintain fleets of devices from all vendors, significantly reducing operational costs, cutting out wastage, and boosting user satisfaction remotely and securely.
Additionally, EKM helps channel partners make accessing the latest technology more affordable and manageable as a service for their customers by offering easy to tailor, flexible and renewable subscription packages for combinations of hardware, software, and supplies. In running and developing these managed solutions, EKM utilises the latest advances in artificial intelligence, predictive analytics, and business process optimisation. EKM Global operates in more than100 countries across every continent and is a wholly owned subsidiary of TD Synnex, although operates as a separate legal entity.
For more information, visit www.ekmglobal.com and connect with EKM on LinkedIn, Facebook, Twitter, Instagram and YouTube.
Media Contacts